News Release
For Immediate Release
Contact: Barbara Haig – 414-257-3853 – barbhaig@haigetal.com

(June 5, 2019 – Burlington, VT) – Vermont physician Andrew J. Haig, M.D., who has led international efforts to change the lives of people with disabilities – from those with spinal cord injuries and chronic back pain to earthquake victims and AIDS patients, will receive a major global award on June 13, 2019 in Kobe, Japan from the International Society for Physical and Rehabilitation Medicine (ISPRM).
Dr. Haig will receive the Haim Ring Award for his physical medicine and rehabilitation (PM&R) efforts on every continent. He is credited with:
• Launching the field of disaster rehabilitation after the 2015 Nepal earthquake.
• Changing World Health Organization policies to require training of rehabilitation experts in low-resource countries.
• Overseeing the only PM&R training program in English-speaking sub-Saharan Africa.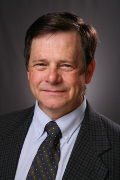 Dr. Haig also has mentored hundreds of American and international students through his work at the University of Michigan and launched dozens of important research projects that validate the need for rehabilitation medicine in the US and around the world. Perhaps most interesting was a tongue-in-cheek article comparing rehabilitation resources in Africa and Antarctica, published simultaneously in five medical journals and resulting in major changes in global health policy.
ISPRM is the global organization of physical rehabilitation physicians and is the official World Health Organization liaison for rehabilitation issues. Dr. Haig will receive the Haim Ring award at the closing ceremony of the ISPRM World Congress, held June 9-13 in Kobe, an event attended by thousands of physicians from around the world. The award is named for a prominent Israeli PM&R physician and recognizes individual members who demonstrate outstanding accomplishments in promoting international visits and exchanges.
"I'm deeply honored that leaders in the field recognize the importance of this work. My task of bringing people together and showing a way forward is only a small part of the story. The real work is done by doctors in some very rough places who risk their lives and careers to help people with disability gain independence," Dr. Haig says.
"Our biggest global challenge now is to find the resources – money and people – to build an infrastructure that supports the success, growth, and sustainability of global PM&R work," Dr. Haig adds.
"It may come as a surprise to many that we actually are challenged here in New England, where not a single doctor is training in this specialty at any of the 10 medical schools outside of Boston," he says.
Dr. Haig practices in Williston, Vt., consults with healthcare systems in the United States and around the world, and is president of the not-for-profit International Rehabilitation Forum, which raises funds for global rehabilitation projects. He is emeritus professor of Physical Medicine and Rehabilitation with adjunct appointment in the Ross School of Business at the University of Michigan.
For more information:
• Haig Nomination Letter: https://haigetal.com/wp-content/uploads/2019/06/Andrew-Haig-Haim-Ring-Application.pdf
• ISPRM awards: http://www.isprm.org/discover/awards-recognitions/
• International Rehabilitation Forum: http://www.rehabforum.org
• Haig Physical Medicine: http://www.haigmed.com/
• Haig Consulting: https://haigetal.com/
###